Epos Now's Bar POS: For Real-Time Traders
Delight staff and customers alike with one-tap ordering, omnichannel sales and real-time reporting so you can respond instantly on those busy Saturday nights.
WAS $449, NOW FROM $99*
Don't delay customers! Save 4 hours per month with the Epos Now Payments integration.
Save more than $25 per month in till roll and ink with our high-res receipt printer.
Save an average 30% on employee costs with Epos Now Online Ordering.
The bar POS system built for savings, service, and speed
Access everything you need from one POS system terminal
Our bar POS system incorporates the best bar pos software and must-have features you need to effectively manage staff and safely serve your patrons.
Our cloud-based POS allows you to view real-time reports from any internet-connected device, wherever you are
Leverage mobile online ordering software to enhance table management
Use leading bar management software to track sales, bar tabs, and margin data to get greater visibility
Connect to over 100 smart business tools to boost efficiency and automate manual tasks
Our all-in-one bar POS system includes the EPOS terminal, cash register and receipt printer.
Easy to use and employees can be trained in 15 minutes
Offer seamless online ordering with Epos Now Order & Pay
Create your own branded profile on our standalone mobile ordering platform. Customers can browse, order, and make contactless payments.
Offer a low-cost food delivery service and process orders from your

Epos Now system
Give customers greater choice with online ordering and pickup services
Provide a fully-contactless dine-in experience with app-less table ordering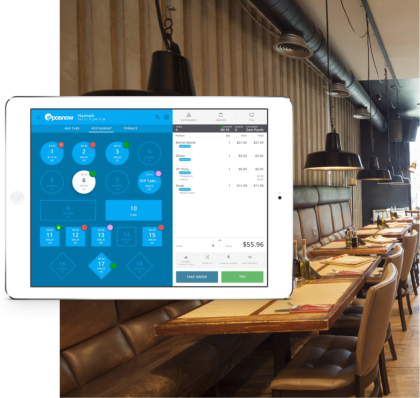 Choose a bar POS that can keep up with the demand
In the hospitality industry, employees such as bartenders provide a variety of services, from customer-facing tasks to back-office tasks. This is why it's essential they have the best POS system to support their daily duties.
Spills are never a concern thanks to our water-resistant touchscreen displays
Train new staff quickly with our user-friendly POS system
Create custom seating charts to match your bar's floor plan
Offer digital free drink chips or happy hours with customer loyalty programs
Enjoy maximum flexibility with dynamic menu options
Did a busy night wipe out your last keg of a customer favorite? Do you offer food during certain promotions? Choose the bar POS that stays in sync with your business.
Real-time inventory tracking will alert bartenders when bottles are empty or there is low stock
Implement a dynamic pricing strategy by adding happy hour discounts or other specials with a single tap
Update your menu items anytime so staff are aware what to provide to customers.
Accept payments without frustration or hidden processing fees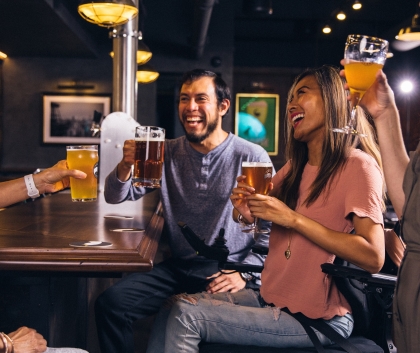 Manage bar tabs efficiently with Epos Now POS system
With our innovative POS systems, your customers can go downstairs, outside, or to any other bar in your building without having to close out their tab.
Payment pre-authorization ensures guests have sufficient funds when opening a tab
Take drink orders on the go with handheld devices by using our mobile POS
Keep customer notes so all bartenders can serve up their favorite drink to improve order management
Our simple menu design lets you work faster and decrease bar wait times
Payment processing made simple
Epos Now Payments offers all the advantages of the latest payment technology with the very best transaction rates.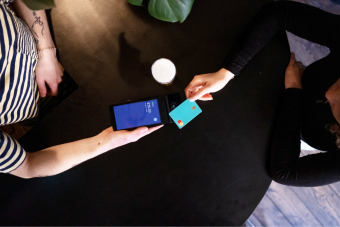 Award winning Support Team
With Epos Now, you'll never feel like you're going it alone.
We provide round-the-clock support, as well as personalized, one-on-one onboarding, and unlimited training and coaching.
Frequently asked questions
If you'd like to know anything else about how Epos Now can help bar owners, request a callback or read our frequently asked questions.
What is a bar POS system?

A bar POS Software gives you all the tools you need to process orders, track inventory, and collect payments with out integrated payment processing through a centralized system, accessible from any location and device. The POS can also integrate with email marketing platforms, bookkeeping programs, and other applications to simplify pub and bar management. Bar owners love it!

What is the best POS system for pubs and bars?

The best POS for pubs and bars will allow you to reduce costs and streamline service by tracking inventory levels, managing your floor plan, and handling bills, tabs and payments. It will also allow you to process orders taken online through food delivery apps. A good bar POS system will also use advanced stock control to ensure that you never run out of what you need.

How do bar POS systems work?

Modern bar and pubs POS systems use the cloud so your bartenders and servers can use handheld POS devices or a main terminal to process drink orders and send food orders straight to the kitchen. Back of house staff can then see all orders on a Kitchen Display System instead of reading paper tickets from servers. Servers can track order status in real-time, preventing unnecessary trips to the kitchen and improving efficiency.